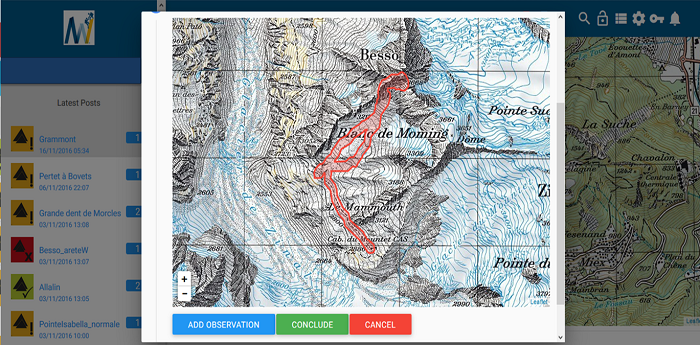 WHERE TO FIND GOOD CONDITIONS? WHAT CONDITIONS TOMORROW WHEN WE ARE OUT IN THE FIELD?

MountaiNow is a new mobile application and website created to meet one of the biggest needs of mountain lovers: Knowing the latest evolution of glacier ice, snow cover, rock surface, or earth trails – for optimal safety

MountaiNow Facts
Safety

: 

Helps risk-assessment and decision-making about destinations/itineraries

For Free

:

Offers open access to all (non-commercial)

Conditions

: Provides a colour-coded map of the latest conditions (Good – Average – Bad

– Very Bad)

Specific

: Identifies and locates specific hazards (e.g. falling rocks, crevasses)

Geo-photos

:

Geo-references real-time photos and short messages about hazards

Up-to-date: Features recent information


Crowd-sourced

:

Collects strategic observations from users via their smartphones

User-friendly

:

Uses an easy interface with colour-codes and icons

Alpine Region:

Includes Austria, France, Germany, Italy, Slovenia, Switzerland

4 Languages:

Available in English, French, German and Italian

All-year-long

:

Covers all four seasons

Compatible:

Works on iOS/android smartphones and main web browsers

Battery-friendly

:

Uses GPS in a battery-saving mode
WE ARE ALL MOUNTAINOW
You are MountaiNow! You and all people who share their observations via their smartphones – from the field or on their way back (in a café, stuck into traffic, or sitting on a train). This is "crowd-sourcing", an approach already applied with success to animal watch or traffic watch, but not yet broadly applied to "mountain" watch. With MountaiNow, sharing observations will be as easy as child's play and only take a few seconds of your time – thanks to a super-easy interface, also available off-line.
INTERNATIONAL AND COLLABORATIVE
MountaiNow is available in four languages (English, French, German, Italian) and for the entire Alpine region (Austria, France, Germany, Italy, Lichtenstein, Monaco, Slovenia, and Switzerland). MountaiNow intends to serve Alpine lovers from all over the world, for instance... England, Scotland, Wales, Ireland, Norway, Sweden, Spain, and USA.

The objective of MountaiNow is to make outings' preparation always easier and more efficient - working together with Alpine Clubs as well as existing mountain tools.